It's that time of the year where so many of us go down the rabbit hole trying to find gifts for our loved ones. It can get pretty stressful trying to find gifts for our friends and family. We want to get things for them that they will like, enjoy, and find useful. We also want to see that smile when they open their gifts. That smile can be serotonin inducing.
Down below I will try to hit the mark for all bookish babes. It can feel pretty intimidating buying for avid readers because sometimes you don't know what kind of books they like, you don't know where to start, or maybe you think they have enough books (we can never have too many) but there are loads of reasons why buying books for a bookish babe can be intimidating.

Well I am here to help you out.
Okay so this one is really easy. Getting a gift card is the easiest choice when you don't want to stress yourself out. If you want to get in and out of store and call it a day. You will still get that serotonin smile because HELLO who doesn't want free money?! They get to buy the books they have been wanting for a while and you get to sleep easy.
Spice it up
[ ] One of way to make this a more intentional gift, is by making sure its to one of their favorite bookstores. Make it an independent bookstore and your gift is two fold!
[ ] Put it in a coffee mug or tumblr with their favorite tea bags or coffee.
[ ] Add a plush toy for extra cute points.
2. Art
This is a new one that I would have never thought about adding to the list before this year. I noticed that a lot of my bookish friends were commissioning art of their favorite characters. Obviously this one you might need more time to do but if you find artists who already has done similar work you can see if they have prints of those characters.
This artwork was created by @Pewchii_ you can find more of their work at https://rambutann.bigcartel.com/products . They do art commissions as well but their books are currently closed and wont open till the end of the month.
If you don't want to do a character from their favorite book get them art that reminds you of them. People love adding stuff to their walls. There are so many artists who are doing beautiful work you just have to look.
A good way to find new artists is on Twitter believe it or not. Every day artists go viral. Plus if you pay attention to certain tags you will find artist quickly. You can look up different art styles based on tags #watercolor #acrylicpainting #newprints. You would be surprised at what you find!
I just bought a print from Mack Brim an artist who went viral on Twitter because their piece of work spoke to me on a spiritual level:
Spice it up
[ ] Get their favorite character commissioned with their favorite quote.
[ ] Get art that reminds you of them.
[ ] Chose a fun frame to put it in.
Places to look
One must not forget the bookish cart. It is the magical unicorn in 85% of bookstagram pictures. It is the perfect gift for a bookish babe with an endless to be read pile. Why not get them something that helps them organize their life a little bit?
Spice it up
[ ] Get a cart in their favorite color.
[ ] If they a creative bookish babe get them some baskets from the dollar store for their art goodies.
[ ] Add some snacks to their cart.
4. DIY BITCH
If you don't got monies, my friend that's okay!! Right now many of us don't. Its been a hard year for for a lot of people. I think a DIY gift is really underrated. You can do so many different projects that cost very little. As we grow older I believe we value more the time and effort someone puts into creating something. People really don't understand how the work that they put into something can be just as valuable if not more than a bought gift.
Spice it up
[ ] Collage of your favorite memories together.
[ ] Digital artwork with with their favorite things.
[ ] Write a personal letter about how much they mean to you.
.
5. Bookmarks Baybee
This is a simple one but a good bookmark goes a long way. If your bookish babe loves to read physical copies a personalized or artisan bookmark can be a fantastic addition to their collection. I got some beautiful resin bookmarks from Created by Cinda that I am obsessed with till this day. Nothing like a really pretty bookmark to get you excited for reading.
Spice it up
[ ] Put the bookmark in one of your favorite books.
[ ] Put it in a little gift basket with some stationary goodies.
[ ] Get them different sized bookmarks so they can use them depending on the size of the book.
Good lighting is essential for good reading! If your bookish babe has poor lighting ( you would be surprised how many houses don't have lighting fixtures added to their rooms) a good lamp is the way to go. I personally love an LED lamp one that changes fun colors.
If they got good lighting than a cute little book lamp for their side table or book shelf is a nice detail to get.
Spice it up
[ ] Get a lamp for the corner and comfy pillow for the chair.
[ ] Personalize the book lamp.
[ ] Lamp and a cozy blanket
7. All things Comfy
The most optimal reading is done in comfort. On days that we don't leave the house, on rainy, snowy, stormy days all we want to do is snuggle up in a good sweater, blanket, or pjs. I believe in CCA (Cute, Comfortable, and Affordable) so I am 100% certain that TJ MAXX, Marshalls, Ross has the connect for you in that area.
Spice it up
[ ] Pajamas in different patterns.
[ ] You can never go wrong with adding some slippers.
[ ] Weighted blanket
Book sleeves are next level gifts because you can use them for anything. I have always been tempted to buy one but I personally can't justify buying it but if someone else does it * shrugs shoulders* I would gladly receive it. There are so many styles and sizes of book sleeves that you can't really go wrong with one. You can choose one in their favorite color, design, or even with a quote on it.
This is a image is from Book Beau.
Spice it up
[ ] Pair it with a gift card or put some hard cash in it.
[ ] Get a notebook or bullet journal.
[ ] Add their favorite treats in the bag.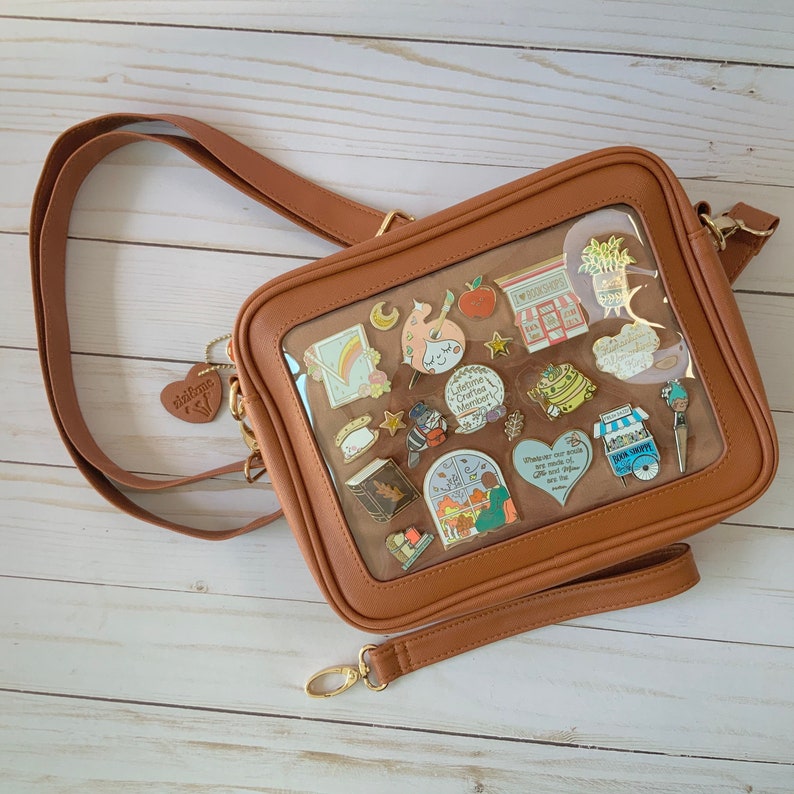 Where do books go if not a back pack or purse!? I personally have a weakness for backpacks and purses. I don't know how people walk around with just putting things in their pockets. Every reader I have ever met has always kept a book in their bag. Not to say that there aren't a rare few who only read in the house but I haven't personally met them. There are certain bags that let you customize them and add letters or pins to certain pockets.
This purse is from Ziziandme
Spice it up
[ ] Get some hats and gloves in case they are still working
[ ] Get some notebooks and pens if they are students
[ ] Add a hand mirror, hand sanitizer, hand lotion, and a brush or wipes
10. Dollar Store Gift Basket
Are you trying to stick to a budget? The dollar store is the place you can hit up for all the basic stuff. You can get all kinds of functional gifts from the dollar store too. DO NOT SLEEP ON THE DOLLAR STORE!!
How to put it together:
First get a basket of your choice they have them in all colors.
Get some tissue paper and add:
A mug (the store has a good selection)
Their favorite candies
Stationary ex. little tabs, a notebook, some highlighters
Stickers
Okay okay let me stop here. Fam don't go too wild because after that it can add up and you blow the budget but this is something light you can do. Its fun rearranging it and putting it together.
Spice it up
[ ] Add a key with what each thing is for.
[ ] Chose a theme.
[ ] Put things in it that reminds you of them.
And that is my list folk! I hope you found this helpful. I think one way to really get good at gift giving is by matching the gift to the bookish babes love language. Some people are kind of uncomfortable with gifts, some people might prefer words of affirmations, spending quality time with you, and others love gifts so it works out perfectly. By matching their love language you are showing them that you really know them.
Expand what your meaning of a gift is!
Let me know if you would get any of the bookish babes in your life one of these gifts? What would you add to this list?
Thanks for reading and stay colorful fam!